Long Phụng, proud winner of the Diversity and Inclusion Award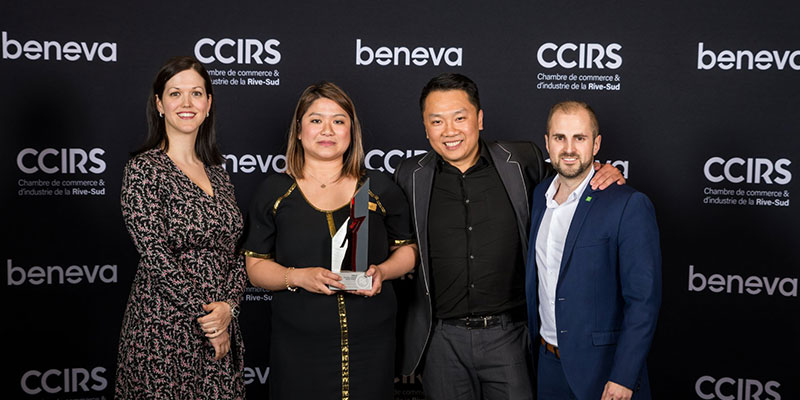 We are very proud to announce that our company LE GROUPE LONGTIN, owner of Long Phụng, has won the DIVERSITY AND INTEGRATION AWARD – KPMG at the 38th Dominique-Rollin Excellence Awards Gala.
Diversity is omnipresent in our company, at all levels. At its core, the Longtin Group grew out of an ethnic family business. Composed of almost 99% of individuals from different cultures and religions, the company has more than fifteen (15) nationalities, 60% are from the first generation of emigration and 40%, from the second. All our business decisions are tinged with this diversity.
In addition to cultural diversification, we find several women in management roles within the group. In this way, we recognize gender equality and want to be an example that with equal competence, everyone can access decision-making roles in our organization. So, not only do we welcome cultural diversity, we encourage gender diversity, including LGBT+ communities, which are also present in our organization.
Added to this is our desire to integrate more people aged 50 and over into our teams. We believe it is important to make room for them and allow them to continue to evolve in a stimulating environment. At the same time, we are also counting on the next generation who will bring a breath of fresh air with their energy and dynamism that characterizes it well. Our human resources department regularly offers training and support to facilitate the integration of all our employees. Particular attention is paid to issues of racism and violation of integrity in order to avoid any form of harassment. Our communication challenges are addressed to always work in a safe, efficient environment, where it is good to work with respect.
The values and corporate message of the Longtin Group are perfectly in line with our inclusive profile. We recognize and are proud of this richness.
We would like to thank the CCIRS – Chambre de commerce et d'industrie de la Rive-Sud, TD, BDC and KPMG in Quebec for this award.
https://longphung.com/wp-content/uploads/2023/01/Prix-Diversite-et-Integration.jpg
400
800
Long Phung
https://longphung.com/wp-content/uploads/2022/12/LP-LOGO-web.png
Long Phung
2022-05-19 00:52:44
2023-03-07 22:59:14
Long Phụng, proud winner of the Diversity and Inclusion Award